Cupid may lose his job over this
So with Valentines day just around the corner, we're going to breakdown the most important elements of that oh-so special day; your outfit (top priority, of course), location, gift and lastly, the "I'm madly in love with you, this is how I'm going to show it" date idea.
Okay so first things first, Cupid probably won't lose his job, but he'll certainly be thanking us later after he reads our cultivated #VDay dates for you an that ultimate, amazing, significant other of yours.
1. Have a picnic
I mean, picnics should be had at least once a month but eh, if it's typically not your thing, what a better day to go for it. Always keep in my mind food that's easy to snack on (because you'll be romantically talking the entire time - okay!). Think Cheese (and lot's of it) fresh baguettes, fruit, baked goods: if you're into that, and last but not least, a bottle of bubbles, because who doesn't love bubbles?
2. Go to the drive-in
What's more romantic than sitting under the stars, nestled up, watching an Oscar award winning film right from the comfort of your car? Pillow and blankets are essential.
3. Take them for a Ferris Wheel Dining Experience
That's right, you read correctly... Romantic, right? Hosted by The Deck Restaurant in Milsons Point, the dining experience invites you and that special someone to your own private carriage that'll take you on a magical ride around Luna Park's famous Ferris Wheel. Think fresh Sydney Rock Oysters, twice cooked lamb, seared kingfish paired back with Local and International wine choices. See link here.
4. Cook them dinner
Yep, just the two of you - like the good ole' days. Get the candles going, add the romantic jazz and you're in for one hella' hot night. Oh, and don't forget the roses.
5. Take them out Salsa Dancing
Let your hips do the talking, if you know what I mean.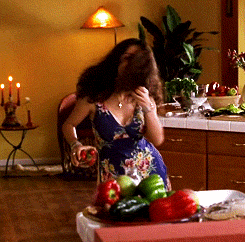 6. Go on a Wine Tasting Tour
First stop, the Hunter Valley. Where? Well, so glad you asked. We suggest you check out Bimbadgen, Audrey Wilkinson Winery (hands down the most picturesque winery you'll ever make eyes with), Tempus Two and Tyrell's Wines.
7. Recreate your first date
As cheesy as it might sound, this is one of the best date ideas - ever. Think of it as a respark in your relationship, but better, so much better.
8. Book a hotel
Get away for the night, enjoy those robes. Oh, and don't forgot about room service.
9. Wine and Dine their pants off
Interpret pants off as you like but after all, it is Valentines Day. We've found some incredible restaurant suggestions thanks to the guys over at Broadsheet - have a browse here.
10. Go for a ride in a Hot-Air Balloon
Well, close your eyes. Imagine soaring through the fresh country air, heart full with your ever-so=hot loved one standing beside you as the sun rises over the countryside. We've found an incredible package in the Hunter Valley that not only includes a one hour trip, but an all inclusive champagne breakfast for two at the Crowne Plaza Hunter Valley. Um, count us in, right? You can find out more here.